How to use the search function?
There are several ways to use our search functions to help you find exactly what you're looking for and to track items once you have found them.
We have tools to help you regardless if you are browsing sales, looking for a specific item or trying to find a seller.
The search options are
Basic search
The search bar is located at the top of most of the website pages. Enter the type of item you're looking for and we will find the items which best meet your search criteria.

If you aren't sure what you're looking for, or if you just want to see all the items available, you can search the categories.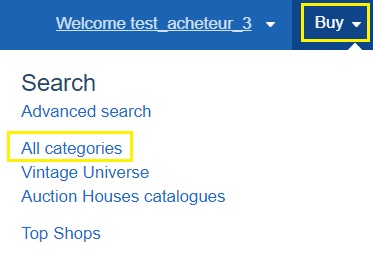 Advanced search
The basic search is a good starting point to find what you need. The advanced search will help you quickly and easily find an item in a specific Delcampe category or store.
Click here to find out more about the advanced search. 
Favorite searches
If you often search for items with the same keywords, in the same store or category, you can save time by creating a favorite search. We will send you email alerts when new items matching your search criteria are found.
Click here to find out more about the favorite searches.
My watching list items
Use your watching list to follow items that interest you. You can view your list in your account where you can also filter, sort, delete and compare items. You can set notifications, to find out when the items you're watching end.
Can't find what you're looking for?
Contact our Customer Service.
Contact us